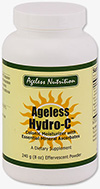 A non-acidic, non-inflammatory water-soluble complex of calcium, magnesium, and potassium acerbates. It facilitates holistic recovery from irregularity, constipation, irritable bowel syndrome, and related colorectal disorders. Relieves straining to prevent the relapse of hemorrhoids, diverticulitis, and anal fissures. Hydro-C is non-addictive, suitable for children and long-term use. Provides up to 96 servings.
NO LONGER AVAILABLE, REPLACEMENT COMING SOON. [Why?]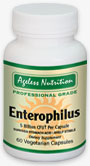 High potency strains of bacteria essential for the proper functioning of the large intestine. Viable intestinal flora is instrumental in supporting the immune system, and preventing premature aging, neurological disorders, bleeding and bruising, vitamin B-12 dependent anemia, and malnutrition-related hair loss. Contains 60 capsules.
NO LONGER AVAILABLE, REPLACEMENT COMING SOON. [Why?]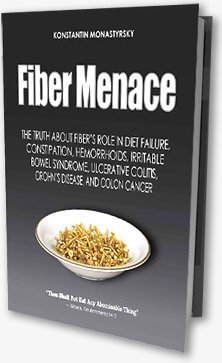 The Truth About the Leading Role of Fiber in Diet Failure, Constipation, Hemorrhoids, Irritable Bowel Syndrome, Ulcerative Colitis, Crohn's Disease, and Colon Cancer.
Softcover: 296 pages
ISBN: 0-9706796-4-5.
Quality Assurance
Colorectal Recovery Kit, Morning & Evening Packs, GI Recovery, Ageless Protection, Hydro-C, and Enterophilus are made in the United States from pharmaceutical-grade components in accordance with United States Pharmacopeia (USP28) and audited standard operating procedures (SOP's).
Our contract manufacturing facilities are ISO 9001 and EU GMP (European Union Good Manufacturing Practices) certified, FDA and Health Canada audit compliant, and all raw ingredients are assayed end cultured for yeast, mold, and bacterial purity by the ISO 17025 accredited lab. Disintegration and dose variations are also tested according to the United States Pharmacopeia.
Here are the other important quality and performance aspects:
Encapsulation optimized for absorption. A daily dose of consumer-grade or most "natural" supplements usually comes in one or two hard-pressed tablets, while the multivitamin content of Ageless Nutrition packs takes six capsules without any fillers. It is done for several reasons: (a) to prevent compression and exposure to high temperature, (b) microencapsulation of fat- and water-soluble components, (c) higher dispersion to improve digestibility, and (d) smaller capsules for easier swallowing.
The optimal synergy between various supplements. It's widely known, for example, that excess zinc may interfere with copper absorption, while the excess copper will interfere with zinc absorption. Ageless Nutrition supplements are scientifically formulated for the best possible harmony between antagonistic and synergistic components.
Highest possible rate of disintegration. We give preference to capsules and gelcaps because they offer rapid and complete disintegration in the stomach, even in older individuals with inadequate acidity. It is an important consideration because undigested supplement tablets with glazing may obstruct the pyloric valve, delay stomach emptying, and contribute to gastritis, heartburn, GERD, and/or get trapped in the hiatal hernia bulge.
Hypoallergenic. Ageless Nutrition supplements "Contain no yeast, corn, wheat, sugar, salt, starch, soy, gluten, milk, eggs, dairy, artificial colors, flavors, or preservatives." This is particularly important for people with digestive disorders, for whom inflamed mucosa is so sensitive; for young adults, whose immune systems are still building up; and for older persons, whose intestinal mucosa membranes may be permeable for undesirable substances.
No fillers, colorings, and stabilizers. We don't need fillers to bulk up tablets and capsules for appearance's sake; second, they aren't subjected to high-temperature compression; third, they don't spend months at a time in open-air containers in seaports, ship hulls, or trucks.
Convenience and optimal hygiene. Ageless Nutrition packs are convenient, discreet, and hygienic. You do not need to carry bulky dispensers to work, business trips, or vocations.
Adjustable doses. Because all supplements aren't squeezed into one or two tablets, you can easily adjust the dose to your weight, age, gender, and other individual preferences.
Optimized for digestion pattern. To assure optimal digestion and assimilation, Morning and Evening packs are adapted for light meals in the first half of the day and heavier meal in the second part of the day.
Freshness and potency. Ageless Nutrition supplements are manufactured in small batches to order.The manufacturer dates every batch to guarantee a minimum of 100% of the labeled claim for all ingredients up to the date indicated at the bottom of the container.
Reduced risk of tampering. Ageless Nutrition ships directly from the manufacturer to our storage and packing facilities. They are not exposed to the retail environment. The packaging is tampering-evident.