Buffered Vitamin C Powder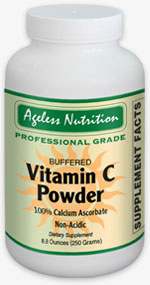 Provides high-potency vitamin C formula buffered with calcium. Unlike conventional ascorbic acid — a type of vitamin C found in fruit juices and — calcium ascorbate is non-acidic and safe for the teeth and the stomach. This property is an essential consideration for young children and people over 50, who don't yet have or no longer have as a strong defensive barrier against acids as teenagers and young adults.
This supplement is the first components of the Hydro-CM program that is intended for holistic and non-addictive management of irritable bowel syndrome with constipation (IBC-C), enlarged hemorrhoids, diverticular disease, and other functional colorectal disorders related to straining, enlarged or hard stool, irregularity, and chronic constipation in children and adults.
Servings Per Container: about 200

Serving size 1/4 teaspoon
Amount Per Serving
% Daily value
Vitamin C
(as calcium ascrobate)
1000 mg
1,111%
Calcium
(as calcium ascorbate)
110 mg
8%
Calcium Ascorbate Crystals are a non-acidic form of powdered Vitamin C and are gentler on the stomach and teeth than non-buffered Vitamin C.
This supplement is manufactured in the United States from pharmaceutical-grade components in a state-of-the-art manufacturing facility that exceeds industry standards for air quality and moisture control. The manufacturer undergoes regular FDA audits and has been GMP (Good Manufacturing Practices) certified by UL (Underwriters Laboratories) and the NPA (Natural Products Association). The NPA's GMP Certification is awarded to companies that meet a high level of compliance to the GMP Standard as verified through comprehensive third-party inspections of facilities and GMP-related documentation.
The other primary benefits of Vitamin C are:
Vitamin C is a critical cofactor for the production and stability of collagen. The stability and strength of your teeth, nails, hair, bones, joints, ligaments, muscles, blood vessels, heart, lungs, liver, kidneys, and all other organs built from the connective tissue depends on this cofactor. 

Vitamin C is an essential cofactor for the manufacturing of neurotransmitters such as serotonin and epinephrine and essential for the healthy functioning of the nervous system. 

The transport of fatty acids into the cell's mitochondria, where they are used to make energy (ATP), requires L-carnitine, which cannot be manufactured without vitamin C.

Vitamin C is a powerful antioxidant helping to neutralize peroxyl and hydroxyl free radicals and regenerating the antioxidants vitamin E and glutathione back to their reduced forms (form in which they serve as antioxidants).

Vitamin C helps limit the production of nitrosamines from nitrites found in foods such as hot dogs, bacon, and cold cuts. Nitrosamines are potentially harmful to the body.

Vitamin C is essential for a healthy immune system. The body secretes histamine in response to allergens and infections. Vitamin C has been shown to help support normal, healthy levels of histamine. In addition, vitamin C supports healthy interferon and white blood cell activity levels, both critical to healthy immune function.
How to take:
If you plan to take this supplement for general use, please follow the directions on the label. When taking it as a part of the Hydro-CM program, please follow the instructions here [link]
This information has not been evaluated by the Food and Drug Administration. This product is not intended to diagnose, treat, cure or prevent any disease.