Magnesium Citrate Powder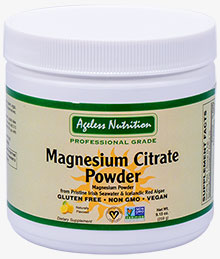 This hypoallergenic, non-GMO, and vegan-certified supplement is the second component of the Hydro-CM program that is intended for holistic and non-addictive management of irritable bowel syndrome with constipation (IBC-C), enlarged hemorrhoids, diverticular disease, and other functional colorectal disorders related to straining, enlarged or hard stool, irregularity, and chronic constipation in children and adults.
Magnesium is a cofactor in over 300 biochemical reactions in the body, such as protein synthesis, muscle and nerve function, blood glucose control, and blood pressure regulation. It is also required for glycolysis — the breaking down of glucose for cellular metabolism and energy production.
Magnesium contributes to the structural development of the bones and is required for the synthesis of DNA and RNA. It also plays a role in the transport of calcium and potassium ions across cell membranes, a process that is important to nerve impulse conduction, muscle contraction, and normal heart rhythm.
70 Servings Per Container

Serving size 1 scoop (3.7g)
Amount Per Serving
% Daily value
Magnesium
from (Icelandic Red Algae) (Aquamin®)
350 mg
83%
OTHER INGREDIENTS: Citric acid, natural flavor, organic stevia extract powder (Reb A**).
CONTAINS NO sugar, salt, dairy, yeast, wheat, corn, soy, preservatives, artificial colors, or flavors.
This supplement is manufactured in the United States from pharmaceutical-grade components in a state-of-the-art manufacturing facility that exceeds industry standards for air quality and moisture control. The manufacturer undergoes regular FDA audits and has been GMP (Good Manufacturing Practices) certified by UL (Underwriters Laboratories) and the NPA (Natural Products Association). The NPA's GMP Certification is awarded to companies that meet a high level of compliance to the GMP Standard as verified through comprehensive third-party inspections of facilities and GMP-related documentation.
Magnesium in various inorganic forms is used in laxatives that require doses above the daily recommended allowance (DRA) and isn't suitable for extended use. However, as a part of the Hydro-CM program, it is safe and effective because it provides only 83% of the daily recommended allowance for magnesium.
Other health benefits of supplemental magnesium
Hypertension, cardiovascular disease, and stroke. Hypertension is a major risk factor for heart disease and stroke. Studies to date, however, have found that magnesium supplementation lowers blood pressure to a small extent. Higher serum levels of magnesium were associated with a lower risk of cardiovascular disease. Higher dietary magnesium intakes (up to approximately 250 mg/day) were associated with a significantly lower risk of ischemic heart disease caused by a reduced blood supply to the heart muscle. Higher magnesium intake might reduce the risk of stroke.

Type 2 diabetes. Magnesium supplementation is associated with a significantly lower risk of diabetes, possibly because of the important role of magnesium in glucose metabolism

Osteoporosis. Magnesium is involved in bone formation and influences the activities of osteoblasts and osteoclasts. Several population-based studies have found positive associations between magnesium intake and bone mineral density in both men and women. Therefore, magnesium deficiency might be a risk factor for osteoporosis.

Migraine headaches. Magnesium deficiency is related to factors that promote headaches, including neurotransmitter release and vasoconstriction. People who experience migraine headaches have lower levels of serum and tissue magnesium than those who do not.

Mental health. Magnesium supplementation enhances overall mental health because it promotes calmness, reduces anxieties, lowers stress by mitigating the impact of the stress hormones, and is a preventative for depression.
How to take:
If you plan to take this supplement for general use, please follow the directions on the label. When taking it as a part of the Hydro-CM program, please follow the instructions here [link]
*This information has not been evaluated by the Food and Drug Administration. This product is not intended to diagnose, treat, cure or prevent any disease.
** Stevia leaves contain 9.1% stevioside and 3.8% rebaudioside. Rebaudioside A (Reb-A) is a steviol glycoside that is less bitter than stevioside.