Morning & Evening Packs
Professional-grade iron-free complex for intensive gastrointestinal recovery and low-fiber diet support. Formulated for optimal daily allowance of essential vitamins, minerals, and microelements.
Expecting vibrant health and longevity from a single multivitamin tablet is like writing a Ph.D. thesis with Cliff Notes. For this and numerous other good reasons explained in the FAQ section and here, Ageless Nutrition daily packs include multiple synergistic supplements.
The program is further divided into morning and evening portions in order to spread the total dosage throughout the day for ease of swallowing, and to enhance digestibility, assimilation, retention, and synergy between components.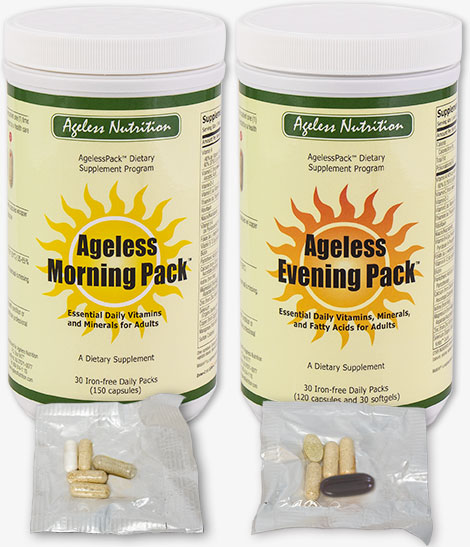 The packaging of supplements in individual packs is an extra convenience for people who may not take each meal at home or who travel often. This form of packaging offers the most practical and hygienic form of storage, and an extra measure of security from tampering.
About Morning packs
The Ageless Protection multivitamin formula (six capsules total, three in each pack) is a foundation of the daily supplement formula. It is a comprehensive, highly concentrated vitamin-mineral-trace element supplement formula with over 30 essential ingredients: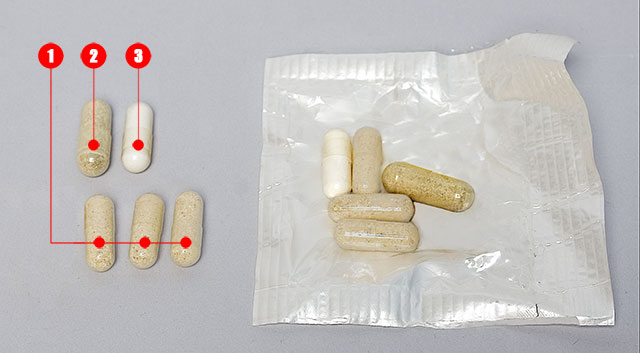 Ageless Protection (#1, three capsules) uses high-purity hypoallergenic ingredients and contains no yeast, corn, wheat, sweeteners, artificial colors, flavors, or preservatives. Every batch is dated to guarantee a minimum of 100% of labeled claim for all ingredients up to the date indicated at the bottom of the container.
In addition to the Ageless Protection multivitamin formula, Morning Pack includes the following synergistic components:
2. Ester C Plus capsule
This supplement combines high-potency vitamin C formula with natural bioflavanoids. Ester-C™ is a proprietary form of vitamin C and a potent antioxidant created through a patented, water-based process that binds vitamin C and calcium. Ester-C is non-acidic, doesn't stimulate the appetite, or contributes to gastritis and ulcers, and is well-tolerated by persons who may be sensitive to vitamin C in pure form.
The citrus-derived flavanones hesperidin and naringin have been shown to extend the nutritional functions of vitamin C. Rutin and quercetin help maintain capillary blood flow and proper vascular permeability, integrity, and resiliency. Pycnogenol™ is known as one of the most powerful natural free radical scavengers. It reduces oxidative damage to vital tissues and helps maintain a healthy capillary system. Along with vitamin C itself, these properties are particularly important for forestalling the progression of hemorrhoidal disease, healing anal fissures, reversing gastrointestinal inflammation, and preventing intestinal ulceration and polyposis.
3. Calcium/Magnesium Citrate capsule
Supplies highly bioavailable calcium and magnesium in citrate form. Boron is included in this formula for its supportive roles in maintaining healthy bone structure and function. The adult human body contains approximately 1,200 g of calcium, about 99% of which is present in the skeleton; and 20-30 g of magnesium with about 60% located in the bones. The remaining 1% of total body calcium and 40% of total body magnesium are found in the soft tissues and play important roles in such vital functions as nerve conduction, muscle contraction (including blood vessels and heart), energy metabolism, and blood clotting.
Calcium and magnesium regulate muscle and nerve function, and are natural systemic relaxants. These properties are essential for colon health, particularly for irritable bowel syndrome, constipation, hemorrhoids, and diverticular disease.
Here is a detailed listing of all ingredients, included into each individual Morning Pack:
Free of Common Allergens:
Morning Pack supplements contain no yeast, corn, wheat, sugar, salt, starch, soy, gluten, milk, eggs, dairy, genetically modified organisms, artificial colors, flavors, or preservatives. Gelatin capsules may not be suitable for vegetarians.
The evening dose includes the remaining three Ageless Protection (#3) capsules and additional synergistic supplements: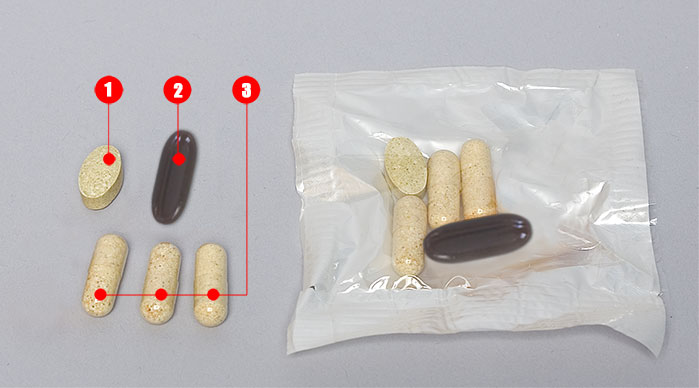 1. Natural Vitamin C-500 Plus tablet
Natural C Plus 500 tablets provide 500 mg of pure ascorbic acid in the base of alfalfa cereal grass plus rose hips and bioflavonoid complex.
Here is a detailed listing of all ingredients, included into each individual Evening Pack
2. Lecithin complex softgel capsule
Lecithin is derived from sunflower oil and supplies important phospholipids and choline, which are used for synthesis and maintenance of normal cell membranes. Dietary deficiency of choline may cause liver disease, such as fatty liver and cirrhosis. Additionally, lecithin plays a key role in the emulsification and mobilization of essential fatty acids and other lipids, essential for cellular metabolism and intestinal health.
3. Ageless Protection (three capsules)
Professional-grade multivitamin formula in vegetarian capsules Contains high-purity hypoallergenic ingredients (listed in the table below). Contains no yeast, corn, wheat, sweeteners, artificial colors, flavors, or preservatives:
Free of Common Allergens:
Evening Pack supplements contain no yeast, corn, wheat, sugar, salt, starch, soy, gluten, milk, eggs, dairy, genetically modified organisms, artificial colors, flavors, or preservatives. Gelatin capsules may not be suitable for vegetarians.
How to take Morning & Evening packs
The following suggestions belong to the category of common sense "wisdom," not rules. These points will help you to get a "better bang for the buck" out of these supplements, enjoy the experience, overcome unlikely obstacles, and avoid minor embarrassments.
Supplements aren't pharmaceutical agents with well-defined pharmacogenesis and related side effects. For that reason high-quality supplements should be completely unnoticeable in day-to-day use — no highs, no withdrawal effect, no effect on the digestive tract, nor any perceptible reaction following ingestion.
Nonetheless, if you are a hypochondriac, technically you may feel faint just looking at those pills. In this case I recommend a positive attitude. You may actually benefit from these supplements even more because the power of self-suggestion can indeed produce "miracles" as long as these suggestions are positive and constructive.
The packs are formulated with light morning and larger evening meals in mind. If the afternoon lunch is your first meal, that's when you should take the Morning Pack. Correspondingly, take the Evening Pack with your final large meal, which is usually dinner.

Take supplements with food or up to 1-2 hours after the meal. This allows supplements to gradually assimilate along with food. The presence of fats in the meal enhances the assimilation of fat-soluble vitamins A, E, D, and K, and improves the assimilation of minerals.

Avoid ingesting too much water when swallowing supplements, particularly after the meal. Excess water hampers digestion by diluting the concentration of digestive juices. It may not be as apparent in healthy young adults, but is a concern for anyone with impaired digestion, history of gastric disorders, or adults past 50. For this reason it's best to use fluids that accompany your meal, such as wine, soup, or mineral water.

If you are routinely choking on capsules, try swallowing them along with your food. In many cases the difficulty is physiological, considering the size of the bolus (a lump of chewed food) that we all swallow easily. Some people (myself included) can swallow several capsules in one "scoop" easier than one by one.

These supplements feature capsules with rapid disintegration characteristics (that's a good asset!). If you use hot liquids to swallow them, they get sticky and may get attached to the wall of the esophagus. In this case just chew on some food, and the bolus will push them through.

B-complex supplements have a strong smell. If you are experiencing belching, you may sense the smell of these supplements for up to 6 to 8 hours after a mixed meal (i.e. protein and carbs). This is normal because the digestion of proteins usually takes that long. The belching — the escape of air and gases from the stomach — happens when the gastric valve opens up during the swallowing of food or saliva. (Mild belching without heartburn is normal, particularly if you drink carbonated beverages or talk while eating and swallow air in the process. Strong belching suggests fermentation in the stomach, and may indicate delayed stomach emptying, inadequate acidity, low enzymes, poor chewing, and a host of other factors unrelated to the supplements. Supplements themselves don't cause or contribute to belching. )

Riboflavin (vitamin B-2) is an intensely yellow water-soluble substance, and may change urine color (to a deeper yellow). This is normal. Also, urine smell may change somewhat because of supplements. That's normal too. You'll have the same effect if you consume a lot of food rich in B-complex vitamins, such as dark leafy vegetables.

For every 15 lb (7 kg) below 120 lb (55 kg) for women, and 22lb (10 kg) below 155 lb (70 kg) for men, you may deduct one Ageless Protection capsule. Children over 12 and teenagers can take Ageless Nutrition supplements following the same guidelines. Women past menarche (first period) should take extra dietary iron.

On the days you are taking Hydro-C, set aside vitamin C tablets. You'll be getting enough as it is. Regardless, you aren't going to cause yourself any harm, because vitamin C in these doses has no known toxicities.

If you can't swallow capsules or have a tendency to choke, switch to liquid supplements instead. It's not a good idea to force yourself or choke accidentally.

Don't give capsules or tablets to young children, to prevent choking. Use liquid supplements instead.

Don't take encapsulated supplements if you had stomach reduction surgery. Take liquid supplements instead.

Don't take both packs at once if you've missed a dose. Though you wouldn't harm yourself, a larger concentration of supplements isn't likely to digest as efficiently.
Finally, as much as I would appreciate referrals, I urge you to exercise discretion while taking supplements. It's never a good idea to flaunt supplements in front of your uninitiated co-workers, bosses, or clients while eating out or in the company's cafeteria. Some people may simply not understand what you are doing, or may think you are sick and taking medications. If you want to help someone, recommend that they read this site or my books — and enjoy your higher salary, more stock options, or promotion on top of your new-found health and well-being.
This information has not been evaluated by the Food and Drug Administration. This product is not intended to diagnose, treat, cure or prevent any disease.