Morning & Evening Packs
Professional-grade iron-free complex for intensive gastrointestinal recovery and low-fiber diet support. Formulated for optimal daily allowance of essential vitamins, minerals, and microelements.
Expecting vibrant health and longevity from a single multivitamin tablet is like writing a Ph.D. thesis with Cliff Notes. For this and numerous other good reasons explained in the FAQ section and here, Ageless Nutrition daily packs include multiple synergistic supplements.
The program is further divided into morning and evening portions in order to spread the total dosage throughout the day for ease of swallowing, and to enhance digestibility, assimilation, retention, and synergy between components.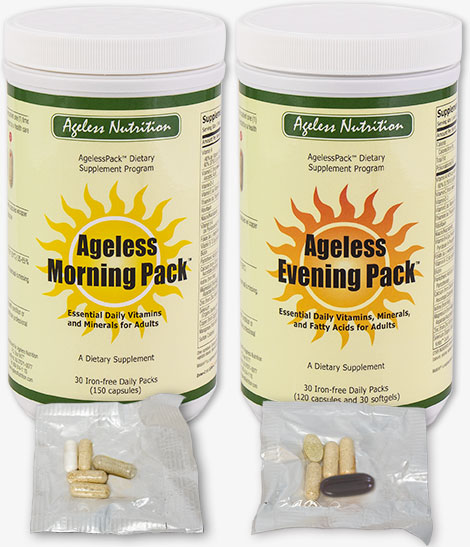 The packaging of supplements in individual packs is an extra convenience for people who may not take each meal at home or who travel often. This form of packaging offers the most practical and hygienic form of storage, and an extra measure of security from tampering.
About Morning packs
The Ageless Protection multivitamin formula (six capsules total, three in each pack) is a foundation of the daily supplement formula. It is a comprehensive, highly concentrated vitamin-mineral-trace element supplement formula with over 30 essential ingredients: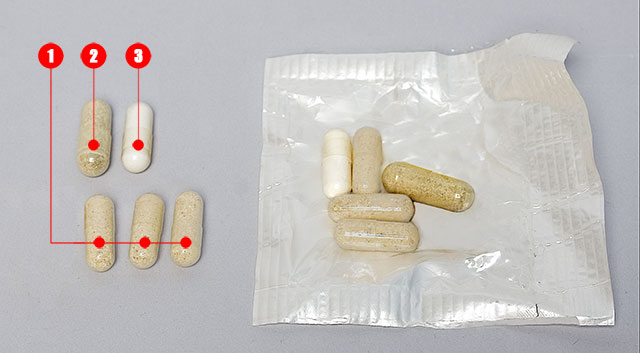 Ageless Protection (#1, three capsules) uses high-purity hypoallergenic ingredients and contains no yeast, corn, wheat, sweeteners, artificial colors, flavors, or preservatives. Every batch is dated to guarantee a minimum of 100% of labeled claim for all ingredients up to the date indicated at the bottom of the container.
In addition to the Ageless Protection multivitamin formula, Morning Pack includes the following synergistic components:
2. Ester C Plus capsule
This supplement combines high-potency vitamin C formula with natural bioflavanoids. Ester-C™ is a proprietary form of vitamin C and a potent antioxidant created through a patented, water-based process that binds vitamin C and calcium. Ester-C is non-acidic, doesn't stimulate the appetite, or contributes to gastritis and ulcers, and is well-tolerated by persons who may be sensitive to vitamin C in pure form.
The citrus-derived flavanones hesperidin and naringin have been shown to extend the nutritional functions of vitamin C. Rutin and quercetin help maintain capillary blood flow and proper vascular permeability, integrity, and resiliency. Pycnogenol™ is known as one of the most powerful natural free radical scavengers. It reduces oxidative damage to vital tissues and helps maintain a healthy capillary system. Along with vitamin C itself, these properties are particularly important for forestalling the progression of hemorrhoidal disease, healing anal fissures, reversing gastrointestinal inflammation, and preventing intestinal ulceration and polyposis.
3. Calcium/Magnesium Citrate capsule
Supplies highly bioavailable calcium and magnesium in citrate form. Boron is included in this formula for its supportive roles in maintaining healthy bone structure and function. The adult human body contains approximately 1,200 g of calcium, about 99% of which is present in the skeleton; and 20-30 g of magnesium with about 60% located in the bones. The remaining 1% of total body calcium and 40% of total body magnesium are found in the soft tissues and play important roles in such vital functions as nerve conduction, muscle contraction (including blood vessels and heart), energy metabolism, and blood clotting.
Calcium and magnesium regulate muscle and nerve function, and are natural systemic relaxants. These properties are essential for colon health, particularly for irritable bowel syndrome, constipation, hemorrhoids, and diverticular disease.
Here is a detailed listing of all ingredients, included into each individual Morning Pack:
One month supply, 30 packets

Serving size 1 packet
Amount per servings
% Daily value
Vitamin A
40% as vitamin A Palmitate, 60%(3750 IU as Beta-Carotene)
6,250 I.U.
125%
Vitamin C
From Ester

™

C (Calcium Ascorbate and Ascorbic Acid)
830 mg
1383%
Vitamin D3
from fish liver oil
250 I.U.
62%
Vitamin E
as Vitamin E succinate
101 I.U.
338%
Thiamine (B1)
as thiamin HCL
25 mg
1667%
Riboflavin (B2)
12.5 mg
735%
Niacin/

Niacinamide

47.5 mg
238%
Vitamin B6
as pyridoxine HCL/pyridoxal-5-fosfate
25 mg
1250%
Folate
as L-methylfolate, Metafoln
200 mcg
50%
Vitamin B12
as cyanocobalamine
25 mcg
417%
Biotin
75 mcg
25%
Pantothenic Acid
as d-calcium pantothenate
125 mg
1250%
Calcium
as calcium citrate/ascorbate complex
257 mg
25%
Iodine
from kelp
50 mcg
33%
Magnesium
from magnesium citrate and ascorbate complex
173 mg
43%
Zinc
from zinc amino acid chelate
6.25 mg
42%
Selenium
from Krebs** cycle & organic Kelp
50 mcg
71%
Manganese
from asparate complex
5mg
250%
Chromium
organically bound with GTF activity low allergenicity
50 mcg
42%
Molybdenum
from molybdenum Krebs**
25 mcg
33%
Copper
from amino acid chelate
1 mg
50%
Potassium
from potassium aspartate complex
24.75 mg
<1%
Citrus Bioflavonoid complex
75 mg
*
L-Cysteine
includes N-Acetyl-L-Cysteine
50 mg
*
Rutin N.F.
50 mg
*
Betaine
from Betaine HCL
29 mg
*
Inositol
25 mg
*
Choline
from Choline Citrate/

betartrate

15 mg
*
PABA
Para-Amino-Benzoic Acid
13 mg
*
Proprietary blend quercetin
Includes Echinacia & Beta-carotene
6 mg
*
Glutamic Acid
from Glutamic Acid HCL
5 mg
*
L-Methionine
3 mg
*
Pycnogenol

™

3 mg
*
Boron
from Boron Aspartate/

Citrrate

complex
0.385 mcg
*
Trace elements
from sea vegetation
5 mcg
*
Vanadium
from Vanadium Krebs
12.5 mcg
*
Betain
from Betain HCL
28.5 mg
*
*Daily Value not established.
**KREBS = Citrate, Fumarate, Malate, Glutarate and Succinate Complex.
Metafolin ® is a registered trademark of Merk KGaA, Darmstadt, Germany
Ester-C is a licensed trademarks of Zila Nutraceuitcals, Inc.
Pycogenol ® is a registered trademark of Horphag Research LTD. Use of this product may be protected by one or more U.S. patents and other international patents.
OTHER INGREDIENTS: Cellulose, hydroxypropyl methylcellulose (capsule), gelatin (capsule), vegetable stearate, stearic acid and silica.

Free of Common Allergens:
Morning Pack supplements contain no yeast, corn, wheat, sugar, salt, starch, soy, gluten, milk, eggs, dairy, genetically modified organisms, artificial colors, flavors, or preservatives. Gelatin capsules may not be suitable for vegetarians.
The evening dose includes the remaining three Ageless Protection (#3) capsules and additional synergistic supplements: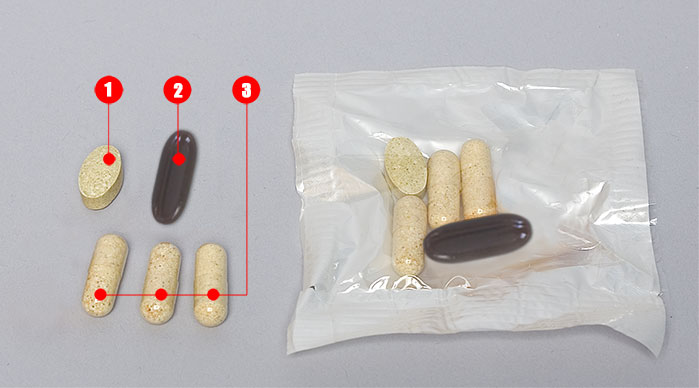 1. Natural Vitamin C-500 Plus tablet
Natural C Plus 500 tablets provide 500 mg of pure ascorbic acid in the base of alfalfa cereal grass plus rose hips and bioflavonoid complex.
Here is a detailed listing of all ingredients, included into each individual Evening Pack
2. Lecithin complex softgel capsule
Lecithin is derived from sunflower oil and supplies important phospholipids and choline, which are used for synthesis and maintenance of normal cell membranes. Dietary deficiency of choline may cause liver disease, such as fatty liver and cirrhosis. Additionally, lecithin plays a key role in the emulsification and mobilization of essential fatty acids and other lipids, essential for cellular metabolism and intestinal health.
3. Ageless Protection (three capsules)
Professional-grade multivitamin formula in vegetarian capsules Contains high-purity hypoallergenic ingredients (listed in the table below). Contains no yeast, corn, wheat, sweeteners, artificial colors, flavors, or preservatives:
One month supply, 30 packets

Serving size 1 packet
Amount per servings
% Daily value
Calories
11%
Calories from fat
11%
Total fat
1.2 g
<2%
Vitamin A
40% as vitamin A Palmitate, 60% 3750 IU as Beta-Carotene
6,250 I.U.
125%
Vitamin C
Ascorbic Acid
800 mg
1333%
Vitamin D3
from fish liver oil
250 I.U.
62%
Vitamin E
as vitamin E Succinate/ as d-alpha 500 IU 1666% Tocopherol with mixed Tocopherols providing minimum of:
500 I.U.
1667%
Gamma Tocopherols
280 mg
*
Beta and Delta tocopherols
40 mg
*
Thiamine (B1)
asthiamin HCL
25 mg
1667%
Riboflavin (B2)
13 mg
765%
Niacin/

Niacinamide

48 mg
240%
Vitamin B6
as pyridoxine HCL/pyridoxal-5-fosfate
25 mg
1250%
Folic acid
200 mcg
50%
Vitamin B12
on ion exchange resin
25 mcg
417%
Biotin
75mcg
25%
Pantothenic Acid
as d-calcium pantothenate
125 mg
1250%
Calcium
as calcium from citrate/

ascorbate

complex
125 mg
13%
Iodine
from kelp
50 mcg
33%
Magnesium
from magnesium aspartate/

ascorbate

124 mg
43%
Zinc
from zinc amino acid chelate
6 mg
40%
Selenium
from Krebs** cycle & organic Kelp
50 mcg
71%
Manganese
from asparate complex
5 mg
250%
Chromium
organically bound with GTF activity low allergenicity
50 mcg
42%
Molybdenum
from molybdenum Krebs**
25 mcg
33%
Copper
from amino acid chelate
1mg
50%
Potassium
from potassium aspartate complex
25 mg
<1%
Lecithin
from sunflower
1200 ng
*
Citrus Bioflavonoid complex
125 mg
*
L-Cysteine
includes N-Acetyl-L-Cysteine
50mg
*
Rutin
50mg
*
Betaine
from Betaine HCL
29 mg
*
Hesperidin complex
25 mg
*
Inositol
25 mg
*
Choline
from Choline Citrate/

betartrate

15 mg
*
PABA
Para-Amino-Benzoic Acid
13 mg
*
Glutamic Acid
from Glutamic Acid HCL
5 mg
*
L-Methionine
3 mg
*
Acerola
1 mg
*
Boron
from Boron Aspartate/

Citrrate

complex
385 mcg
*
Trace elements
from sea vegetation
25 mcg
*
Vanadium
from Vanadium Krebs**
13 mcg
*
*Daily Value not established.
**KREBS = Citrate, Fumarate, Malate, Glutarate and Succinate Complex.
OTHER INGREDIENTS: Gelatin (capsule), cellulose, vegetable stearate, natural glycerin, silica, water, alfalfa cereal grass and rose heaps.
Free of Common Allergens:
Evening Pack supplements contain no yeast, corn, wheat, sugar, salt, starch, soy, gluten, milk, eggs, dairy, genetically modified organisms, artificial colors, flavors, or preservatives. Gelatin capsules may not be suitable for vegetarians.
How to take Morning & Evening packs
The following suggestions belong to the category of common sense "wisdom," not rules. These points will help you to get a "better bang for the buck" out of these supplements, enjoy the experience, overcome unlikely obstacles, and avoid minor embarrassments.
Supplements aren't pharmaceutical agents with well-defined pharmacogenesis and related side effects. For that reason high-quality supplements should be completely unnoticeable in day-to-day use — no highs, no withdrawal effect, no effect on the digestive tract, nor any perceptible reaction following ingestion.
Nonetheless, if you are a hypochondriac, technically you may feel faint just looking at those pills. In this case I recommend a positive attitude. You may actually benefit from these supplements even more because the power of self-suggestion can indeed produce "miracles" as long as these suggestions are positive and constructive.
Client's testimonial
I only used the entire program at the beginning. Then I just started taking the vitamins regularly. The vitamins alone help to keep me regulated. I have been taking these vitamins for a couple of years now and I love them. I HAVE NEVER BEEN ABLE TO TOLERATE ANY VITAMINS. I would either get a stuffy nose, or a lip sore, or a stomach ache, or something. These vitamins have been a God-Send! Konstantin has been wonderful about answering questions over the years, as well as his customer service staff. People don't buy into the "too much fiber" theory very easily since it comes from the doctors they have always trusted. But for me, the proof is in the pudding! C.G. (via survey)
Further down, in the What to Expect section, I'll describe longer-term positive effects of these supplements that are concrete, apparent, and measurable. But to get there, start by following these suggestions:
The packs are formulated with light morning and larger evening meals in mind. If the afternoon lunch is your first meal, that's when you should take the Morning Pack. Correspondingly, take the Evening Pack with your final large meal, which is usually dinner.

Take supplements with food or up to 1-2 hours after the meal. This allows supplements to gradually assimilate along with food. The presence of fats in the meal enhances the assimilation of fat-soluble vitamins A, E, D, and K, and improves the assimilation of minerals.

Avoid ingesting too much water when swallowing supplements, particularly after the meal. Excess water hampers digestion by diluting the concentration of digestive juices. It may not be as apparent in healthy young adults, but is a concern for anyone with impaired digestion, history of gastric disorders, or adults past 50. For this reason it's best to use fluids that accompany your meal, such as wine, soup, or mineral water.

If you are routinely choking on capsules, try swallowing them along with your food. In many cases the difficulty is physiological, considering the size of the bolus (a lump of chewed food) that we all swallow easily. Some people (myself included) can swallow several capsules in one "scoop" easier than one by one.

These supplements feature capsules with rapid disintegration characteristics (that's a good asset!). If you use hot liquids to swallow them, they get sticky and may get attached to the wall of the esophagus. In this case just chew on some food, and the bolus will push them through.

B-complex supplements have a strong smell. If you are experiencing belching, you may sense the smell of these supplements for up to 6 to 8 hours after a mixed meal (i.e. protein and carbs). This is normal because the digestion of proteins usually takes that long. The belching — the escape of air and gases from the stomach — happens when the gastric valve opens up during the swallowing of food or saliva. (Mild belching without heartburn is normal, particularly if you drink carbonated beverages or talk while eating and swallow air in the process. Strong belching suggests fermentation in the stomach, and may indicate delayed stomach emptying, inadequate acidity, low enzymes, poor chewing, and a host of other factors unrelated to the supplements. Supplements themselves don't cause or contribute to belching. )

Riboflavin (vitamin B-2) is an intensely yellow water-soluble substance, and may change urine color (to a deeper yellow). This is normal. Also, urine smell may change somewhat because of supplements. That's normal too. You'll have the same effect if you consume a lot of food rich in B-complex vitamins, such as dark leafy vegetables.

For every 15 lb (7 kg) below 120 lb (55 kg) for women, and 22lb (10 kg) below 155 lb (70 kg) for men, you may deduct one Ageless Protection capsule. Children over 12 and teenagers can take Ageless Nutrition supplements following the same guidelines. Women past menarche (first period) should take extra dietary iron.

On the days you are taking Hydro-C, set aside vitamin C tablets. You'll be getting enough as it is. Regardless, you aren't going to cause yourself any harm, because vitamin C in these doses has no known toxicities.

If you can't swallow capsules or have a tendency to choke, switch to liquid supplements instead. It's not a good idea to force yourself or choke accidentally.

Don't give capsules or tablets to young children, to prevent choking. Use liquid supplements instead.

Don't take encapsulated supplements if you had stomach reduction surgery. Take liquid supplements instead.

Don't take both packs at once if you've missed a dose. Though you wouldn't harm yourself, a larger concentration of supplements isn't likely to digest as efficiently.
Finally, as much as I would appreciate referrals, I urge you to exercise discretion while taking supplements. It's never a good idea to flaunt supplements in front of your uninitiated co-workers, bosses, or clients while eating out or in the company's cafeteria. Some people may simply not understand what you are doing, or may think you are sick and taking medications. If you want to help someone, recommend that they read this site or my books — and enjoy your higher salary, more stock options, or promotion on top of your new-found health and well-being.
Client's testimonial
Excellent quality. Amazed how taking the vitamins in the morning didn't make me quezzy before going to work. M.S. (via survey)
Adverse effects
Morning and Evening packs aren't known to cause adverse effects. In general, high-grade supplements should be unnoticeable. When supplements are noticeable in any way, other than described above, it indicates subpar quality or the presence of inappropriate substances, such as allergens, diuretics, or hypertensive agents.
The supplements in Morning and Evening packs aren't known for causing allergies or any other adverse affects. If you experience any, put all supplements aside until these effects pass, and then try again, taking one supplement at a time to determine what may have caused the adverse effect.
Unlike many low-quality supplements, the ingredients in Ageless Nutrition packs don't cause diuretic effects (for the same reasons as above). In the unlikely event you experience excess urination, just put these supplements aside for a few days to normalize urination, then resume taking them gradually.
Morning and Evening pack supplements don't cause hypertensive effects because they don't contain inorganic mineral salts. In the unlikely event you experience a spike of blood pressure, increase the dose gradually to "acclimatize" the body. (Low-quality supplements with inorganic salt minerals, additives, and herbal stimulants may cause considerable blood pressure spikes — the blood volume expands rapidly to dilute the offending substance to an acceptable level.)
Client's testimonial
It got to be quite a lot to take all the morning and night pack pills so I discontinued that part after close to 3 months. I am now using just Hydro-C and it seems my constipation is coming back. I was having nice success while taking everything. I may try getting more GI recovery to take with the Hydro C and see if things improve. – B.B. (via survey)
What to expect
The supplements don't work the "next day," because they are neither drugs nor stimulants. In general, people who are young and healthy will notice supplements' effects the least. That is, they'll simply remain young and healthy much longer than their contemporaries.
Older people, particularly those affected by age-related conditions such as chronic fatigue, borderline depression, transient pains, migraines, low energy, edema, irritability, indigestion or low immunity, recognize the benefits of these supplements much faster—because these conditions gradually abate, some completely.
In general, depending on the condition, it takes from a few weeks to a few years to see the improvements, because the body takes time to regenerate and rebuild tissues and organs. The body has its own priorities, and it takes time to saturate its basic needs and "reset the alarms" caused by long-term deficiencies.
If you closely follow my dietary recommendations in Fiber Menace, you'll see more dramatic improvements faster, because the outcome of any nutritional "therapy" is also a function of digestive, endocrine, and cardiovascular systems—both fully dependent on nutritional hygiene (what, when, and how much) and nutrients (what gets digested).
Improved sleep. These supplements don't cause insomnia or migraine headaches because they don't contain any known stimulants or additives. In fact, extra calcium and magnesium cause a relaxing effect, and may improve sleep, mood, circulation, and general relaxation of nerves and muscles.

Improved thermogenesis. You may find that you don't get cold as often and your basal and daily body temperature goes up. This is related to daily intake of iodine with these supplements. Iodine is often missing in North American diets, particularly among people drinking tap water or avoiding table salt.

Moderate weight loss. You may start losing weight. Also, regular intake of high-grade B-complex vitamins improves energy metabolism and increases body thermogenesis. This is incidentally good for weight loss.

Reduction of cravings and appetite. These supplements reduce all kind of cravings and appetite. Low-quality supplements, particularly in hard-pressed tablets, stimulate appetite because of mechanical irritation from hard-to-digest tablets. You are not going to experience these side effects with Ageless Nutrition supplements.

Decreased bloating, constipation relief, healing of anal fissures, particularly in combination with GI Recovery and Hydro-C formula. These cumulative positive effects results from the combination of factors, present in these packs, and particularly Calcium and Magnesium, Ester-C, and Lecithin.

Increased energy. You will also find that your energy and stamina increases considerably because of improved energy metabolism, stable blood sugar, increased thermogenesis, restoration of thyroid gland function, and better blood oxygenation (see below).

Improved oxygen transport. Regular intake of vitamin C, B-12, folic acid, and essential fatty acids normalizes your hemoglobin count and eliminates borderline or acute anemia. (Incidentally, I recommend starting a weight loss regimen not through a reduction diet, but with intense supplement "therapy." It's next to impossible to attain and retain meaningful weight loss with low thermogenesis, low metabolic rates, unstable blood sugar, incessant cravings, and borderline anemia. This is probably one of the most important recommendations on this page, and it ended up in parentheses. Oh, well...)

Resistance to respiratory infections. You are less likely to be affected by the common cold and other respiratory infections because these supplements enhance immunity and resistance. Even if you acquire an infection, it will pass faster, and you are less likely to experience transient or permanent side effects.

Improved memory and concentration. Your concentration and memory function will improve because of improved circulation, energy metabolism, normalization of substances that carry nerve signals, and the abatement of inflammatory conditions that affect nerve tissues.

Improved vision. Your eye vision, particularly at night, will improve and remain stable because you'll be regularly receiving RDA-recommended doses of Vitamin A. In general, people who are taking supplements through most of their middle-age years aren't likely to develop cataracts — a nutrient-deficiency condition.

Enhanced libido. Supplements improve sex in many ways. The most noticeable ones include less fear of sex because orgasms don't drain you as much and stronger orgasms because of improved circulation. There is also abatement of premature ejaculation because to a large extent it is related to an inflammatory condition of nervous receptors. You'll feel more interest in sex because of overall improvement in sex hormones synthesis. You'll have less vaginal dryness or an increased volume of semenal fluid. For obvious reasons, these improvements are particularly noticeable after 45-50.

Improved bone mineral density. This is a fairly objective benchmark that can be easily determined by BMD tests. It won't happen, though, if you don't consume adequate amounts of animal protein, primary fats (animal), and essential fatty acids. Without those building blocks of bone tissues, supplements are marginally helpful.

Reduction of cavities and gum disease. Teeth are the only exposed bone tissue. They reflect general bone health better than any x-ray. Quality supplements combined with bone-healthy nutrition yield dramatic and noticeable results for teeth and gums.

Stronger hair, nails, and skin. The health of these tissues improves for the same reasons why bone tissues improve — just like the bones, collagen is a primary building block of hairs, nails, and skin. The collagen synthesis requires a steady supply of vitamin C, copper, and essential fatty acids, which today's urban diet can't reliably provide without supplements.

Abatement of edemas. Edemas result from electrolyte imbalance in blood, lymph, and intracellular fluids. Some aspects of electrolyte balance are controlled by minerals and proteins that come only from dietary sources, so the deficiency of these nutrients may cause edema. Obviously, getting rid of these deficiencies with diet and supplements is a much better deal than with diuretics, which may reduce edema at the price of even bigger deficiencies.
Well, I will stop here, because I don't want to set up false hopes and imply that supplements are miracles or something. The reasons all these things happen to people who have these problems are the same reasons why healthy people don't have them, particularly those in known longevity zones — their diet provides all the same nutrients naturally, with high-quality drinking water and nutrient-dense food, as described in The Ingredients of Longevity Nutrition essay.
It goes without saying that the Hollywood glamour set, professional athletes, and many high-net-worth individuals patronize extremely expensive, nutritionally-oriented doctors. They receive exactly the same advice as you are getting on these pages, and get their supplements from the same "secret" source I use.
Q. Why these packs contain so many more vitamins and minerals than something like One A Day or Centrum?
Supplements like One A Day™ and Centrum™ are formulated to match the "standard" known as the Recommended Dietary Allowances or RDAs. These nutritional guidelines were established by the United States government in 1941 with an admirable goal to keep the population fit and healthy. As you may have guessed, the outcome of this effort is a certified fiasco, with or without One A Day or Centrum.
According to the Food and Nutrition Board of the National Academy of Sciences, the authors of the Recommended Daily Allowances [link]:
"Their primary goal [of RDAs — ed.] was to prevent diseases caused by nutrient deficiencies. Technically speaking, the RDAs were not intended to evaluate the diets of individuals, but they were often used this way."
Translation: The RDA recommends a minimal reference intake of supplements to prevent obvious degenerative diseases, such as scurvy, rickets, scoliosis, night blindness, neural tube defects, osteoporosis, pellagra, beriberi, and so on. The RDA wasn't intended to become a benchmark for supplements or diets, but manufacturers of cheap supplements and diet promoters used them that way anyway to give them "scientific" justification and "academic" credibility.
In other words, the Food and Nutrition Board quietly repudiated the entire framework behind One A Day, Centrum, and everything else connected to "healthy" nutrition as useless and deceptive. And it didn't stop there:
"In 1997, the Food and Nutrition Board of the National Academy of Sciences did something dramatic: they changed the way nutritionists and nutrition scientists evaluate the diets of healthy people with the creation of the Dietary Reference Intakes (DRIs)."
This "something dramatic" is behind the formulation of Ageless Nutrition supplements along the lines of the "Tolerable Upper Intake Level (UL): the highest level of daily nutrient intake that is likely to pose no risk of adverse health effects for almost all individuals in the general population," defined by the new DRIs.
Before the DRIs were published, these kinds of supplement formulations were called Optimal Dietary Allowances (ODA). The objectives behind ODAs (or ULs) are to account for the following factors:
Age-related reduction of assimilation. As we get older, the human growth hormone (HGH) begins to drop precipitously. By the mid-life point (50-60), even healthy people digest and assimilate third to half as efficiently as in their teens. This is the reason why the athletes, Rambo, and Rambo-wannabes are taking HGH. I believe HGH will eventually cause cancers just like hormone replacement therapy did to women, so I'd rather take quality supplements than hormones.

Need to compensate for prior losses. If you begin taking high-grade supplements for the first time in your late 40s, early 50s, and beyond, you may already have suffered substantial mineral deficits in your body stores, which are primarily bones. This condition can manifest itself as low bone mineral density (BMD). Thus, any supplements that you are taking now must not only provide for your daily requirements, but must also replenish those stores.

Diet composition. Some food components, such as acidic juices, tannins in tea, or some substances in coffee, may bind and neutralize certain micronutrients and render them useless. So outside of the lab, in real life, 100% digestion is rarely a "sure thing," particularly with minimal doses.

Exclusion of fortified foods. By excluding foods with high-carbohydrate and high-fiber content, such as breakfast cereals, bread, pasta, juices, and low-fat dairy, you are also excluding all food fortified with synthetic supplements—further reducing the pool of available micronutrients.

Overhydration. People who consume more fluids then necessary will lose substantial amounts of minerals through urination, hence they need much more to replace the losses. This problem is further exacerbated by caffeinated beverages such as tea, coffee, colas, and energy drinks.

Environmental factors. People without adequate exposure to UV radiation from the sun will have a much lower rate of absorption of calcium, magnesium, and phosphorus. Hence they may need much larger doses of these essential macrominerals, and supplemental vitamin D.

Intestinal flora status. A person with damaged intestinal flora may need larger amounts of vitamin K and biotin than a person with normal flora, who may need none.

Common medicines. It's widely known that certain medications may impact liver function, digestion, absorption, and, hence, interfere with the assimilation of micronutrients. This is especially apparent from the side effects of cholesterol-lowering medicines (statins), diuretics' impact on the loss of minerals through urine, heartburn medication on digestion, and many others.

Medical conditions. Numerous medical conditions, particularly digestive disorders, may interfere with digestion and assimilation of micronutrients. Large, but still safe doses account for these disorders.

Medical interventions and trauma. Medical emergencies of any kind escalate physical needs for nutrients. People who routinely donate blood may also require large supplemental intakes.

Gender. Women of childbearing age require substantially larger doses of supplements during certain phases of ovulation, during and after periods, and before, during, and after pregnancy and lactation.

Laxatives may cause a considerable loss of fluids with stools. These fluids may contain unassimilated minerals, trace elements, and water-soluble vitamins. Laxatives, particularly fiber-based, interfere with the digestion of micronutrients, causing further deficiency.

Lower bioavailability. Any manufactured supplements, even the absolute best, may not be as potent and active as similar substances obtained in their natural form from unprocessed food. Hence the doses indicated on the supplement label may be lower than the body's intrinsic requirement.

Compensate for oxidative damage from environmental pollution and undesirable additives. It's a well-established fact that people with the highest intake of micronutrients have the least oxidative damage caused by second-hand smoke, pesticides, herbicides, food additives, and other pollutants. This kind of damage is impossible to account for when measuring base vitamin levels, hence the extra allowance.

Larger weight and height. RDAs reflect the supplement needs of an adult whose weight, height, and body frame fits into a model-like body. Most Americans aren't remotely close to this ideal, and weigh substantially more than models. Strange, but true — even fat cells need nutrients. Breast, brain, and blood (leukemia, lymphoma) cancers are classical examples of cancers developing in organs composed mainly from fatty tissues.

Stress exposure. If you believe the truism that stress kills, then it's easier to realize that today's high-stress urban living also demands higher nutrient intake to counteract internal damages caused by stress and related factors.

Exercise. Most, if not all, centenarians lead active lifestyles, but they don't exercise. That's because they don't need to, and because they subconsciously avoid risks related to exercise. In fact, people who live long lives are known for lots of sleep and leisurely lifestyles. If you do exercise, the resulting low-level organ trauma, oxidative damage, and nutrient loss from sweat requires a higher nutrient intake.
Once you consider all these factors — and I counted 17 — it becomes apparent just how simplistic the RDA one-size-fits model was and is. That's why I recommend others to do as I do and take professional-grade supplements formulated according to the Optimal Daily Allowances criteria — still safe, but more reliable and effective than a meager RDA ration.
Client's testimonial
This is my main vitamin/mineral program at this time and so far, I am happy with it. Of course, the wholeness of the program is what I want. I do feel that my intestine is healing with the GI Recovery addition […] I can still attest to the great benefits that I have gotten and still continue from your products. I thank you again for providing the education and practical supplements concerning digestive issues so prevalent in these times. B.L. (via survey)
Q. I am concerned about overdosing with vitamin A...
According to the Food and Nutrition Board of The United States Institute of Medicine, the tolerable upper level (UL) of vitamin A (retinol) for adults is 10,000 IU daily, while the Recommended Daily Allowance (RDA) is 3,000 IU.
Morning and Evening pack combined contain only 5,000 IU (40%) of preformed vitamin A and 7,500 IU (60%) of beta-carotene (carotenoids).
The toxicity of vitamin A starts at above 25,000 IU per day, or five times (500%) the amount in the Morning and Evening Packs. Beta-carotene is non-toxic because it is assimilated only when there is a deficiency of preformed vitamin A.
If you are pregnant, underweight, or have some other concerns, you may take Morning and Evening Packs on alternative days. This will bring your daily intake down to 2,500 IU, slightly below the RDA's daily allowance of 3,000 IU.
To learn more about the functions and safety of vitamin A, please visit the website of the LinusPauling Institute at the Oregon State University [link].

Q. Why doesn't this formula include iron?
Dietary iron supplement isn't included in Ageless Packs intentionally for the following reasons:
Children safety. Accidental overdose of iron-containing products is a leading cause of fatal poisoning in children under six, and these packs aren't available in child-proof containers.

Possible toxicity. To prevent possible toxicity in women past menopause and healthy men, who may not require additional iron supplements.

Fortification of wheat flour. People who routinely consume products from fortified flour (breakfast cereals, bread, pasta) are already getting sufficient amounts of iron.

Hem iron in natural meats. Individuals who regularly consume beef, lamb, and organ meats may be getting enough iron, and don't require supplementation.

High level in drinking water. In certain areas drinking water may contain sufficient amounts of dietary iron, and supplementation isn't required.

Insignificant losses. Iron is stored and well retained in the body, so under normal circumstances iron deficiency is unlikely. Supplemental iron is recommended for individuals with confirmed iron-deficiency anemia, related to blood donations, trauma, internal bleeding, or surgery.
Growing children, women of child-bearing age, and lactating mothers have higher iron requirements. They should take additional iron supplements from individual child-proof containers. (A professional-grade formula will be available here shortly).
Vegans and individuals who observe kashrut dietary laws (observant Jews and Muslims) may also require supplemental iron and related supplements, because vegan diets and kosher (drained-off blood) meats may not provide enough iron to prevent anemia.
Keep in mind that anemia may be related to factors other than iron deficiency, such as the deficiencies of vitamin B-12, folic acid, vitamin C, essential fatty acids, and primary (animal) proteins. Insufficient diet and malnutrition related to fiber consumption are the primary reasons behind these deficiencies, as described here and here.
Finally, since this site is about colorectal disorders, allow me to dispel one very pervasive myth: dietary iron doesn't cause constipation, as many people believe. In fact, iron overdose causes acute diarrhea. [link]
Q. What should I do with the supplements I miss or tablets I set aside?
I don't have a satisfactory answer to that question. You may put them aside to use when you forget to reorder the refill on time, or give them to your spouse or a child, or whatever. In general, if you keep these supplements in a dry, cool, and dark place, they'll store well.
Q. For how long should I take these supplements?
I hope this question is rhetorical, not practical. The retort is: "How long should you eat for?" or "For as long as you wish to remain healthy!" But these are self-serving replies, so I'll try to elaborate on them a little.
First, there is no one-size-fits-all answer to this question because the number of variables affecting each individual is almost infinite.
Second, it really depends on your objectives. You can take supplements until you recover from some conditions caused by nutritional disorders. Or, you can take supplements for preventing these disorders. Or, you can start taking supplements again when something is amiss.
Third, from my twelve years of taking supplements (since 1996), I can say that there is such a thing as "supplement fatigue," especially among people who are healthy. I first started to experience this "fatigue" about ten years into this process. So I may go a week or two without supplements, or take the Morning pack one day, and the Evening pack another day. I guess that by then, my body has had its fill, and I listen to it attentively. Even then, I rarely miss a day of taking vitamin C and cod liver oil.
You should also note that I have been on a low-impact diet for the past 12 years, and my lifestyle is fairly "low maintenance" — no daily commute, I work at home, I take off whenever I feel like it, and I enjoy daily walks in the park in lieu of the gym. People who "work and play" harder would have a much higher needs.
Fourth, there are certain supplements that are considered "therapeutic," such as dietary iron to treat anemia, or vitamin A to treat night blindness. Obviously, when these conditions are objectively eliminated, you either reduce the dosage or drop the supplement altogether.
Finally, honestly, when it comes to the base supplements, such as in the Morning and Evening Packs, I don't believe there is any one answer. Or perhaps the answer is: "When the day comes to stop, you'll know it!"
Q. What about your other customers — do they take supplements for a long time?
I would say about 60% to 70% take our supplements for longer than three months, about 20% to 30% for longer than a year, and about 10% to 15% never stop. That sounds about right — in practically any sphere the 80-20 rule governs above average success and compliance.
In general, people who are older and had more problems to start with are the most compliant. There is also a group of younger professionals who stick to this regimen with religious fervor because they realize that their career and performance depends on having top-notch health, appearance, and energy.
I believe that people who read this site may be more compliant, because this is the first time I've made such a detailed case for supplements. I barely mention supplements in Fiber Menace, and Russian-Americans (the readers of my first two books) are very leery of any sales pitch regarding supplements. That's because supplements aren't in their DNA, and because most got badly burned by numerous MLMs that preyed on first-generation emigrants. And they still do: low resistance to peer pressure — a hallmark of MLMs — is more common in tight emigrant "ghettos" than in the dispersed and highly independent "indigenous" population.
Client's testimonial
I really like it and can tell there's a difference in quality when I compare to normal store-bought vitamin/flora supplements. I did find that it was too much for me to use all the tablets in one day (from the morning/evening packs) continuously so I switch it up, one day I use the morning pack, the next the evening pack and so on. J.T. (via survey)
This information has not been evaluated by the Food and Drug Administration. This product is not intended to diagnose, treat, cure or prevent any disease.