Media information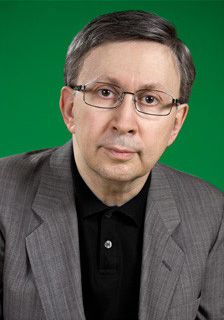 I have decade-long experience working in broadcasting. My call-in radio talk shows entitled "Bon Appétit, Chicago" and "Bon Appétit, New York" enjoyed continuous high ratings and popularity. I was heard on the following radio stations:
— People's Wave, New York, 620 AM. 2000 - 2003, weekly;
— Radio New Life, New York, 920 AM. From to 2003 to 2005; weekly;
— New Life Radio, Chicago, 1330 am, [link], 2001- present, weekly;
— Radio Nadezda (Hope). Subscription-based Russian-language radio, transmitted nationwide. 1999 - 2001, 2008 - present. Weekly guest appearances.
— Voice of America, Russian service. Several guest appearances in 2007.
My on-camera persona can be judged from videos on this site. I am fortunate not to be affected by stage/camera/lights fright, and am at ease speaking extemporaneously on any subject related to my work. I always enjoy live Q&As with hosts and audiences.
"My name is Tatyana Rodos and I am a radio host at 87.7 FM WNYZ New York. I had the pleasure of working and co-hosting a show with Konstantin Monastyrsky in 2010 and 2011. Mr. Monastirsky is truly an inspirational figure and a true master of his craft. One of the reasons our shows were popular was the fact that Konstantin could always explain extremely complicated topics in a layman's language.
Another reason was his unique ability to tell the truth, even if it is commercially unattractive. He is not afraid to go against the establishment and always stands behind his words. I recall our shows fondly and looking forward to having another opportunity to work together in the future."
Tatyana Rodos, Host
Radio "Positiv", 87.7 FM, New York, USA
Just like my writing, my responses are culturally relevant and are often humorous. Since the subject matter I am dealing with often encroaches on medicine, I am always first to point out that I am not a medical doctor, and if I don't know the answer, I always say so. I avoid using unfamiliar terminology or medical jargon. When it comes up, I always "translate" it into plain English.
I am not confrontational with audiences, and don't respond in kind to aggressive or provocative questioning. Instead, I try to defuse these situations by directly addressing the 'sore.' I enjoy good rapport with medical professionals, and am always respectful toward physicians, as is apparent from my explanations here.
"Konstantin Monastyrsky has been a frequent guest on my Russian-language radio programs for almost 15 years now. Our broadcasts reach Russian-American audiences in practically every state.
Konstantin's programs have been immensely popular from the get-go. Listeners like them not only because he discusses the most relevant and timely subjects related to health, but also because he possesses an amazing skill of presenting these complex and often controversial topics in accessible, simple language.
At first, some of Konstantin's opinions seemed too controversial and subjective, particularly because they contradicted the dominant academic research and opinion in the United States and abroad. But the passage of time has demonstrated again and again that many of his positions and predictions that, at first glance, seemed outrageous and provocative, have been eventually confirmed by hard science and real life.
I also had an opportunity to introduce Konstantin during several of his lectures and meet-ups with his readers in New York and Chicago. He is a great speaker and gifted presenter with a unique ability to present his thoughts with scientific clarity, irony, and humor, which I believe is quite important.
Finally, I am an ardent follower of Konstantin's nutritional and lifestyle recommendations. Thanks to his guidance, I have been able to eliminate knee pain, strengthen my joints, and continue enjoying my daily 10-mile runs and participation in several international marathons annually."
Michael Buzukashvilli, Host,
Radio Nadezda (Hope), New York, USA
Some readers of my books assume that doctors "hate my guts." To the contrary, many readers are referred to my work by their physicians, and in almost two decades of public appearances in unscreened live broadcasts, I haven't experienced a single act of verbal hostility from a medical professional.
Audiences enjoy my style because it is direct, balanced, to-the-point, and fluff-free. Numerous people have commented that my accent makes my presentations more engaging because it encourages concentration. Some people compare my style to Dr. Ruth Westheimer's, which I consider a huge compliment.
I am at ease filling a guest spot on short notice, and in any time slot because I enjoy a high-level of energy from pre-dawn to post-dusk, and my mood isn't overly dependent on weather, blood sugar, or traffic. (Speaking of traffic: I am within 40 to 60 minutes driving range from any studio location in Manhattan, and about 15 minutes from Secaucus and Fort Lee in New Jersey.)
Finally, I enjoy a good rapport and quick bond with hosts, producers, and support staff, am well versed in the specifics of live radio and broadcast television, arrive on time, well rested, appropriately attired, and thoroughly prepared, which includes bringing along background notes/possible questions for hosts related to the topic in hand.
From 1999 to 2003 I published close to 200 weekly columns in two Russian newspapers – Courier (Курьер) and New Russian Word (Новое Русское Слово). The content of these columns made the core texts of my first two Russian-language books.
Although writing in Russian for me (non-working language) is harder than in English, several logistical reasons lead to that decision: my wife is a professional Russian-language editor; the large body of content was already written in Russian; finally, my work on Russian-language radio assured a widespread interest in my books.
Both titles became instant bestsellers. Because the Russian-language community in the United States is small — under 2 million people — and rapidly shrinking, we decided to redirect my efforts to English-language market.
Here is a chronological list of my books. You may click the respective link to learn more about each title:
» Functional Nutrition: How to Prevent Nutritional Disorders and Premature Aging with Functional Nutrition, 2000, Russian language, 360 pages;
» Reversing Metabolic Syndrome: How Carbohydrates Ruin Your Health and Wealth, and What You Can Do To Reverse the Onslaught of Metabolic Syndrome. 2002, Russian language, 340 pages;
» Fiber Menace: The Truth About the Leading Role of Fiber in Diet Failure, Constipation, Hemorrhoids, Irritable Bowel Syndrome, Ulcerative Colitis, Crohn's Disease, and Colon Cancer; 2005, 296 pages.
» Gut Sense: How To Reverse and Prevent Constipation and Irregularity In Children and Adults. 2008, Published on the Internet only.