Mass-market supplements: Rat poison or what?
An estimated 140+ million Americans are taking mass-market (a.k.a. consumer-grade) dietary supplements. The majority of them are useless at best, outright harmful at worst. In fact, these supplements could be easily substituted for industrial-strength rat poison — assuming you could convince rats to take them.
I am not exaggerating — the world's most heavily promoted and widely used brands, such as Centrum® or One A Day®, may include ingredients also found in laxatives, hair dyes, herbicides, fungicides, pesticides, fertilizers, cement, glues, resins, and God knows what else. Some of these substances are well-known carcinogens, irritants, allergens, and birth-defect-causing agents.
No wonder all kind of supplements, not just consumer-grade, got such a bad rap! Just as one snooty, condescending French waiter can make all French look bad, so can one bad supplement make all supplements look bad. The only difference — unlike French delicacies, bad supplements will harm you twice: first — by not delivering the goods, second — by poisoning you.
Thus, if you are taking supplements for health and longevity reasons, at the very least don't take the slimy ones. There are five major categories of supplements to chose from: consumer-grade, generic, natural, professional, and opportunistic. In general, each successive category is more expensive than the previous one. To a large extent, higher prices reflect better quality. But not always — there is plenty of expensive slime too.
Here is a brief overview of these major categories. After reading this overview you should be able to determine the degree of sliminess of various supplements on your own. It ain't rocket science, that's for sure.
Consumer-grade supplements
Consumer-grade supplements are represented by products you can find on supermarket and drugstore shelves, such as Centrum, One A Day, Nature's Way, Theragran, and generics. The majority of health food stores and specialized web sites wouldn't resell consumer-grade supplements because of quality and performance concerns.
The formulations of consumer-grade supplements are based on outdated Recommended Daily Allowances "standard" discussed here. They are made from the cheapest, least efficient components to maximize profit. The entire daily "dose" is usually squeezed into one or two hard-pressed tablet.
Consumer-grade supplements are optimized for extended shelf life. To mask oxidation, spoilage, odor, and discoloration common to all supplements, their manufacturers use artificial colorings, preservatives, and glazes.
When the critics of supplements talk about the supplement tablets that leave the body intact — they may be referring to these products. Consider, for example, the content of One A Day Essential supplement as seen on this illustration (modified to fit this screen, click the picture to see the original):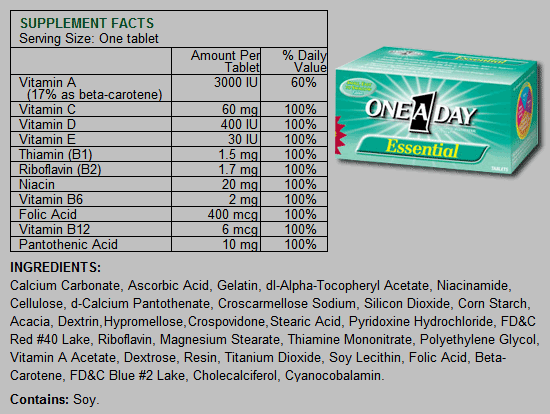 The Supplement Facts table above lists only 11 vitamins, while the Ingredients list below it indicates 31 components. These 20 extra items are fillers, preservatives, excipients, antioxidants, glazes, sweeteners, artificial coloring, binders, deodorizers, and other technological substances used to shape and hold this atrocity together.
Do any of those substances — croscaremellose sodium, silicon dioxide, hypromellose, crospovidone, strearic acid, FD&C Red#40 Lake, magnesium stearate, polyethylene glycol, resin, titanium dioxide, FD&C Blue #2 Lake — belong in your body when you only want vitamins?
After manufacture, these supplements pass a complicated "supply chain"— contract manufacturer, brand owner, distributor, jobber, and retailer. Each step of the way, a markup is added. Thus, if you purchase a $9.95 container of consumer-grade supplements, at best it may contain $0.50-$1.00 worth of components including its packaging.
This business must be quite lucrative, considering that it attracted the attention of major drug companies, who are now behind three of the most prominent consumer brands. Wyeth Pharmaceuticals markets the Centrum brand, and Bayer Group — the One A Day brand, the Nature Made brand — Otsuka Pharmaceutical Co., Ltd. (under the Pharmavite brand in the USA to conceal its offshore origins). Bristol-Myers Squibb was behind Theragran, though it appears it's now owned by the Walgreens drugstore chain.
Considering all of the above, I wouldn't take these supplements for the same reason I wouldn't eat pink slime. Are they better than nothing? Well, make your own judgment after reading this page to the end.
Generic supplements
Generic supplements are house brands carried by the retail chains such as RiteAid, CVS, Walgreens, GNC, Whole Foods, Costco, Vitamin Shoppe, and others. The quality of house brands ranges from consumer-grade in the drug store chains and supermarkets to "natural" at GNC, Whole Foods, and Vitamin Shoppe.
Natural supplements
Natural supplements is a trade lingo for products marketed by companies with well-established health-food stores brands, such as Country Life, Schiff, Twinlab, Solgar, Kal, Nature's Way, and many others listed here.
The quality of natural supplements varies from mediocre to good, depending on the manufacturer and the product. Many house brands, such as GNC and Vitamin Shoppe, are usually "natural."
The reasons these supplements are called "natural" is because manufacturers avoid using artificial colorings and allergenic fillers, and give preference to natural components.
A decade or so ago, almost all natural supplements were manufactured in the United States from domestic or European components. Since then, China has become the world's largest supplier of these ingredients, which are substantially less expensive than their American- or European-made counterparts.
Not surprisingly, most supplement manufacturers procure their ingredients from the least expensive source — despite substantial inflation, the prices for most natural supplements are lower today than they were a decade ago. The packages may still say "Made in the USA," while they really should have said "Packaged in the USA."
So I wasn't surprised reading the following report on PRNewswire:
"Research Indicates Nearly 25 Percent of Supplements Are Contaminated With Steroids, Stimulants and Banned Substances [...] Fifty-eight supplement samples were purchased from popular retail outlets and Internet sites in the United States and sent to HFL*, the world's most experienced anti-doping lab in the field of supplement testing, for analysis. Twenty-five percent of the samples showed the presence of steroid contamination while 11 percent showed the existence of stimulants." [link]
In no way am I implying that all offshore ingredients are inferior or less potent — some are, some aren't. But as with all other aspects of offshore manufacture, the pharmaceutical quality controls in China may not be as stringent as in the United States because the concept of product liability there isn't the same as in the West. Yes, they may have hung or shot an occasional flagrant violator in front of the stadium crowd, but I doubt very much these public killings improve supplement quality.
Nonetheless, most natural supplements represent decent value, and usually feature more generous formulations, higher quality ingredients, lower allergenicity, and better digestibility than their consumer-grade analogues.
Professional supplements
The "professional" supplements are marketed by professionals, such as doctors, nutritionists, chiropractors, dietitians, weight loss counselors, physical therapists, private trainers, and others.
There is one good reason why "professional" supplements from a reputable medical professional represent higher quality than most others — specialists who sell them to their patients receive immediate feedback when something isn't right. And no medical professional of sound mind will want to create problems for patients whose payments for professional services represent a major share of their income relative to the ancillary income from the sales of those supplements.
Ageless Nutrition supplements — the ones I use myself and recommend to my readers — belong to the "professional" category as well. A great deal of thought and attention went into their selection — not for profit reasons, but because my family and I are taking them too. They've been further refined over the last eight years with help from customers' feedback.
Just like all identical-looking television sets aren't alike picture-wise, so it is with supplements. The degree of quality, purity, digestibility, stability, bioavailability, and other factors varies substantially. Compare, for example, the components in Centrum vs. Ageless Nutrition's Morning and Evening packs:
| | | |
| --- | --- | --- |
| Mineral | Source in Centrum | In Ageless Packs |
| Calcium | Calcium Carbonate, chalk — known respiratory irritant; same material as used in cement and common antacids; causes constipation; interferes with gastric digestion and leads to delayed stomach emptying and GERD. | Calcium Citrate/Ascorbate complex |
| Magnesium | Magnesium Oxide — a common laxative, respiratory and eye irritant, very low digestibility. [link] | Magnesium Citrate/Ascorbate complex |
| Chromium | Chromium Picolinate | Organically bound with GTF activity, low allergenicity |
| Copper | Cupric Sulfate — major herbicide, fungicide, and pesticide, used in hair dyes. [link] | Amino acid chelate |
| Iron | Ferrous Fumarate | Iron-free formula [link] |
| Manganese | Manganese Sulfate — fertilizer, category 3 (severe) poison. [link] | Aspartate complex |
| Nickel | Nickelous Sulfate — a known cancerogenic and teratogenic (birth-defect causing substance). [link] | Trace elements from sea vegetation |
| Potassium | Potassium Chloride | Potassium Aspartate complex |
| Iodine | Potassium Iodide — mild irritant, has adverse effect on the thyroid gland, anti-radiation agent. [link] | Kelp |
| Molybdenum | Sodium Molybdate — common fertilizer, known irritant. [link] | Molybdenum Krebs |
| Selenium | Sodium Selenate (Na2SeO3) — similar to sodium selenite (Na2SeO4), experimental carcinogen, highly toxic substance. [link] | Selenium Krebs and organic Kelp |
| Zinc | Zinc Oxide — harmful if inhaled. Respiratory and eye irritant. Used in antiseptic ointments and sun screens. [link] | Amino acid chelate |
All of the minerals in Centrum, with the exception of chromium picolinate and ferrous fumarate, are dirt-cheap inorganic salts that are the least efficient in terms of bioavailability and digestion. Almost all of them are known toxins in larger quantities.
You may confirm all of these "outrageous claims" by checking out the related links. Just in case, I strongly suggest that you take your blood pressure and/or heart medication before reading those links — you'll find them quite shocking, particularly if you've been taking supplements like Centrum for a good while.
The usual argument — these doses are so small to cause harm — isn't really a good one, because, as anyone who studied homeopathy knows, smaller doses of toxic substances are often more potent than the larger ones.
Unlike consumer-grade supplements, professional-grade, such as from Ageless Nutrition, use state-of-the-art organically bound (chelate, Krebs, aspartate) or natural (Kelp), or patented (Chromium GTF, Krebs) substances for each individual mineral to assure optimal assimilation, high bioavailability, and utmost safety.
Comparing vitamins is more difficult than minerals because their exact provenance isn't indicated on the label, but I am sure that Ageless Nutrition supplements are equally superior in this respect as well.
Professional grade supplements are free of fillers, colorings, and stabilizers of any kind. This comparison tells you all: one tablet of Centrum vs. 9 capsules, 3 gelcaps, and 1 tablet in Ageless Nutrition daily packs:
| | |
| --- | --- |
| Centrum | Ageless Nutrition |
| Medium-Chain Triglycerides* | Cellulose (capsule shell) |
| Maltodextrin (binding agent) | Silica (inert flow agent) |
| Gelatin (binding agent) | Vegetable stearate (capsule component) |
| Anhydrous Citric Acid (preservative) | Natural glycerin (capsule) |
| Ascorbyl Palmitate (antioxidant, E304) | Water (capsule) |
| Butylated hydroxytoluene (BHT, E321, antioxidant) | Alfalfa cereal grass (natural base for C-500 tablet) |
| Boric Acid (antiseptic and insecticide) | Rose hips (a source of bioflavanoids) |
| Calcium Stearate (flow agent) | Gelatin (softgel capsules) |
| Corn Starch (filler) | |
| Crospovidone (PVP, E1201, binder) | |
| Dibasic Calcium Phosphate (tableting agent) | |
| FD&C Yellow 6 Aluminum Lake (artificial coloring) | |
| Hydrogenated Palm Oil* | |
| Hypromellose (water absorbent, sustained release agent) | |
| Microcrystalline Cellulose (E460i), excipient (filler, carrier) and binding agent | |
| Polyethylene Glycol (vaginal lubricant, sustained release agent, and laxative in MiraLax and Colyte.) | |
| Polyvinyl Alcohol (binding agent) | |
| Pregelatinized Corn Starch (filler) | |
| Silicon Dioxide (excipeint) | |
| Sodium Ascorbate (preservative) | |
| Sodium Benzoate (preservative) | |
| Sodium Citrate (flavoring agent, provides tartness) | |
| Sodium Metavanadate (hydration agent) | |
| Sorbic Acid (E200, preservative) | |
| Stannous Chloride (E512, color retention agent and antioxidant) | |
| Sucrose (sugar, flavoring agent) | |
| Talc (E553b, flow agent) | |
| Titanium Dioxide (E171, coloring agent) | |
| Tricalcium Phosphate (E341, anti-caking agent) | |
| Modified Food Starch (filler) | |
*uses unknown
This table should give you a good idea of what you may be ingesting along with a meager amount of substandard supplements. Some of those agents listed above are known irritants, carcinogens, antacids, laxatives, and so on. Maybe one tablet a day isn't going to cause much harm, but over the years, and on top of all the other junk in processed food, it all adds up to no good.
Opportunistic supplements
The "opportunistic" supplements are promoted and sold by numerous MLMs such as Sunrider, Herbalife, Rexall, Amway, Nu Skin, and some less-known ones. Occasional con men and bottom feeders are seen hawking supplements on cable and the Internet.
These supplements tend to be the most expensive — the prices are jacked up to create an illusion of quality and effectiveness and to back up their "curative" prowess. The actual quality may range from pure junk to professional, depending on the promoter.
If you ask me about the quality of "other's people supplements," I won't have enough pertinent information to answer your question objectively and without bias. There are, however, several obvious criteria you can use for a quick reality check:
Professional-grade multivitamins have a distinctive natural smell because the manufacturers don't use glazes to conceal it.

Professional-grade supplements use transparent capsules, gelcaps, or unglazed tablets. The presence of any solid color or glazing indicates the use of artificial colorings and/or glazes to conceal the content.

Professional-grade supplements are packaged primarily in capsules and gelcaps because they are easier to take, and disintegrate faster. When tablets are unavoidable, a natural base is used to form the tablet.
Ultimately, the quality of any given supplement can be determined in the lab and by observing long-term effects while taking them. If you'd rather not be a human guinea pig, just read the labels and get yours from a reputable source.
Enthusiastically recommending supplements to the uninitiated is a risky proposition — some may suspect your motivation, judgment, or even sanity. It's easy to understand why — with so much deception connected to this subject, most people are very skeptical.
So don't harangue your children, parents, partners, and colleagues into taking supplements too assertively, otherwise you may encounter a completely opposite reaction. And I am yet to find parents who enjoy unquestionable authority among their children past a certain age, and vice-versa. The same goes for spouses past their honeymoons.
Hopefully, at some point they will realize that you are still alive and improving, and may decide to take supplements on their own free will. This would definitely produce better results than "motivational" arguments such as these:
— Honey, take these supplements, so we'll have better sex! Or...
— You aren't going to die as fast with these, dear! Or...
— You won't hibernate in front of the TV whole evening, daddy! Or...
— Darling, you aren't going to get as fat as your mother!
And don't expect most doctors to embrace supplements either. There are lots of legitimate reasons why so many physicians are still in denial. I can think of hucksterism, poor quality, professional liability, lack of understanding, institutional requirements, preference for food, and pervasive and omnipresent disinformation as the top reasons:
Hucksterism scares doctors the most, because a great deal of scrupleless hucksters are exploiting the sick by promoting supplements to treat incurable cancers, insure eternal youth, and everything in between. Inevitably, doctors end up mending most of those "miracles." A simple test distinguishes hucksterism from legitimate application of supplements — if it sounds too good to be true, it probably isn't! Unfortunately, even some savvy people may fail to apply this ubiquitous benchmark when confronted with serious diseases. Don't be fooled — among all miracles, staying healthy is the only true one. Everything else is wishful thinking.

Poor quality. Most of the supplements aren't sold for optimal health, but for optimal profit. Hence, their quality is inherently low. Some may contain stimulants, allergens, diuretics, hypertensive substances, and other harmful substances. Most herbal supplements are quite potent and may cause significant side effects, such as arrhythmia, hypoglycemia, hypertension, anxiety, or insomnia. Doctors are well aware of those issues, so their reaction to "supplements" is just as predictable.

Professional liability. If you die taking the likes of MiraLAX, Prempro, Vioxx, or Propulsid, your doctor is off the hook, because these are approved therapies and treatments. If you die taking supplements (five to ten people do die each year vs. over 300,000 from the side effects of prescription drugs alone), your doctor may lose his medical license and source of income. Why bother?

Lack of understanding. Doctors aren't trained to dispense supplements, but to treat diseases. Supplements aren't intended to treat diseases, but to prevent them. So, asking a gastroenterologist to endorse a supplement is like asking a Catholic priest to interpret the Koran. In fact, your priest may know more about the Koran than your doctor knows about supplements.

Institutional requirements. A doctor's time is a valuable and pricey commodity. They generate income only for services paid for by insurance companies or patients. Alas, there is no insurance code or price list for recommending supplements. Besides, just as you wouldn't bother your internist with marriage counseling, you shouldn't pester other doctors with questions unrelated to their specialty and expect reasoned advice.

Disinformation. The function of disinformation is to create fear, uncertainty, and doubt (a F.U.D.-factor.) I've heard it all — vitamin C causes cancer, vitamin E increases mortality, vitamin A causes birth defects, calcium causes kidneys stones, "vitamins make expensive urine," "all vitamin pills end up in the gutter," and so on. Here is an example of how it's usually done:

"WEDNESDAY, Dec. 26, 2001 (HealthScoutNews) — Chromium picolinate, the nutritional supplement embraced by fitness fanatics and bodybuilders, is becoming popular among diabetics who believe it will keep their blood sugar under better control. But an Arizona scientist has discovered that hefty doses of the supplement cause mutations in the cells of hamsters." [link]

That's the usual pattern — an asinine study like the one above mixes the cells of a dead hamster with ultra-high doses of a substance one wishes to malign, inevitable mutations are observed, and the press release goes out: "Chromium may cause cancers." A classical FUDing, no different from "A hammer may cause head trauma!" or "Thunder may cause hearing loss!"

And this is what people, including doctors, will hear on the radio, see in the evening news, and read on the Internet. Bingo! No more of the perfectly safe, cheap, and side-effect-free chromium supplement—back to the metformin, a diabetes drug with a list of side effects, warnings, and precautions over 10 pages long [link].

Most of these studies are funded by the usual suspects — Big Pharma, trade groups, and associations — who may have a vested interest in selling pricey prescription drugs instead of cheap supplements. Nonetheless, few doctors and even fewer patients investigate these claims, and just take the fear, uncertainty, doubt bait.

Preference for food. Because of all of the above, most doctors naturally prefer that you get all your micronutrients from food, not supplements. And I don't blame them for this tendency. In fact, in The Ingredients of Longevity Nutrition essay I describe circumstances when supplements aren't needed. If you could recreate them for yourself, I would be the first to tell you not to take any.
That's life! Not surprisingly, most middle-aged physicians I meet are overweight, prematurely aged, and overmedicated — but fortunately, not all. More and more doctors, particularly those of the younger generation, are embracing supplements and low-impact nutrition as a foundation of good health and longevity. If your doctor is like this, consider yourself lucky!
And if not, let your doctors know about this site or my book. Nobody wants to be sick or dead, particularly doctors. So there is a good chance they'll read it. And that's how change will come — one thoughtful doctor at a time.
Konstantin Monastyrsky