Common sense medical disclaimer
I (Konstantin Monastyrsky, author) am not a medical doctor. The opinions expressed in my books, videos, and websites reflect my personal experiences and ongoing investigations into functional (i.e., reversible) conditions related to everyday health and nutrition.
My books and essays aren't a substitute for qualified medical advice and do not provide quick (or, in some cases, any) fixes. I do not endorse, recommend, or design any specific diet or food plan for therapeutic purposes.
Many respected authors and authorities have opposite opinions regarding what constitutes optimal ("healthy") nutrition based on well-intended research from well-respected institutions.
Because humans are not mechanical devices and differ, however slightly, genetically, opposing opinions exist regarding the same subject. It doesn't necessarily mean that any one of these opinions is right or wrong, but simply that one of these conflicting views doesn't apply equally to all people in the way it might apply to a machine.
My website (accessible under the aliases GutSense.org, FiberMenace.com, and others) does not contain medical advice, even though some may interpret it that way. The presentation on this website, including texts, graphics, images, videos, and all related materials are provided for informational and educational purposes only. Although I make an effort to keep the provided information up-to-date and reflect up-to-date research, I can't guarantee it.
My books and website's entire content isn't intended as a substitute for diagnosis or treatment by qualified medical professionals. Please consult your physician for personalized medical advice. Always seek a qualified healthcare provider's advice with any questions regarding a medical condition, diagnosis, or treatment. Never disregard or delay seeking professional medical advice or treatment because of something you have read or seen on my website, blog, books, and videos.
Some of the health- and medicine-related content on my site may contain information that you may find offensive or sexually explicit. If this information offends you, stop using the Site.
Before taking any supplements mentioned in my books and website, consult your health care provider for a thorough evaluation. A qualified physician should make a decision based on each person's medical history and current prescriptions. The supplement summaries on this website may not include all of the information pertinent for patient use and should not be used as a substitute for professional medical advice.
Reliance on any information provided by the author, website, website's employees, and website guests and visitors, is solely at your own risk.
In case of a medical emergency, contact your doctor and/or call 911 immediately. Despite over a million of just reported medical errors that kill and injure hundreds of thousands of patients annually (according, of all people, to the Journal of American Medical Association), calling 911 still beats calling an undertaker [link]: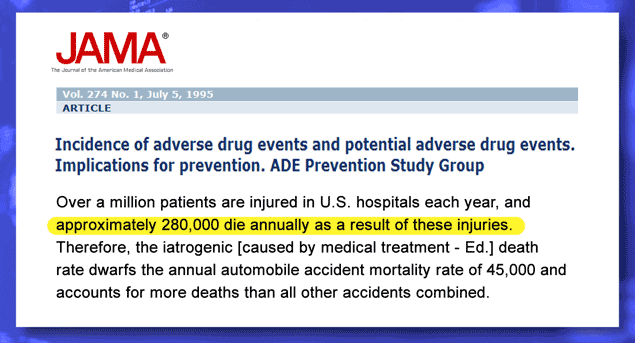 If you are concerned over the ensuing cost of medical care or don't have medical insurance, study my website with this disclaimer in mind, and don't get sick for stupid reasons. This way, all parties win except doctors, lawyers, and undertakers. If they still do, it's your fault, not mine!
Testimonials disclosure information
Testimonials appearing throughout this site had been received via email or derived from reviews on independent (outside of my control) sites. They reflect the experiences of the people who have used our products according to the recommendations provided on this site.
Testimonials represent individual results, and these results may vary from person to person because of age, gender, health, occupation, medication, and other factors. I do not claim that these results are typical or that you may achieve any of them, and they may not be representative of all of those who will use the information on this site or recommended our products.
Testimonials displayed on this site were provided or obtained verbatim except for correction of grammatical or typing errors. Some have been shortened to exclude personal information or opinions that aren't relevant to the general public.
Testimonials appearing on this site are not intended to make claims that our products can be used to diagnose, treat, cure, mitigate, or prevent any disease. Nothing on this site has been clinically proven or evaluated by the U.S. Federal Drug Administration (FDA).